Register now: New CLRC webinar series
The Cancer Legal Resource Center (CLRC), a DRLC program, will present two new webinars, covering new and updated information for people with cancer and other illness or disabilities during the Covid-19 pandemic. This webinar series is supported by a grant from Seagen, Inc.
Learn more about each of our two new topics or register now by selecting a webinar title below: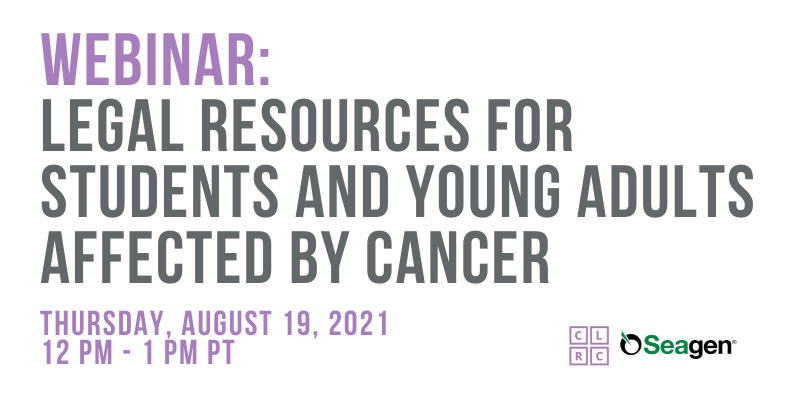 Legal Resources for Students and Young Adults Affected by Cancer | Thursday, August 19, 2021 | 12 pm – 1 pm PT
This webinar will provide an understanding of the types of protections that are available to cancer patients and survivors during the college/higher education application process, once students have enrolled in college or graduate school, and beyond. Additionally, this webinar will include ways for students or alumni with disabilities to manage or discharge student loans, including updates and resources available during the Covid-19 pandemic.
Register now: https://register.gotowebinar.com/register/8855772730719631632.
Download flier: http://ow.ly/rQCS50FAfdH.
---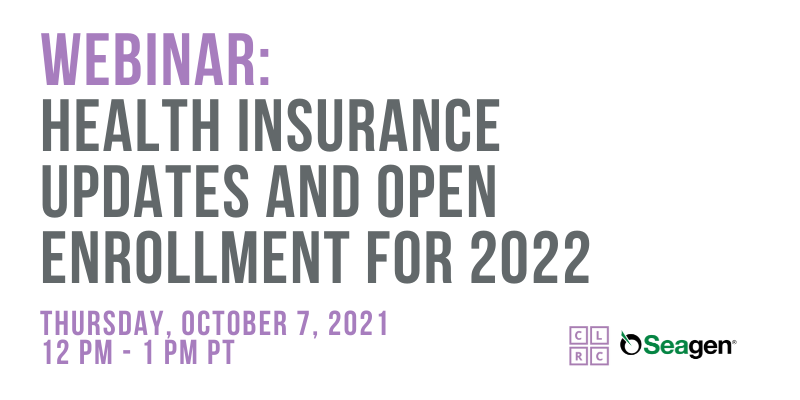 Health Insurance Updates and Open Enrollment for 2022 | Thursday, October 7, 2021 | 12:00 p.m. – 1:00 p.m. PT 
One way to take charge of your health is to understand your health insurance options and be prepared for this year's Open Enrollment period.  This webinar will give an overview of consumer protections, and ways to maintain or change coverage, whether you are shopping on or off the health insurance marketplace. You'll also get up-to-date information about the Affordable Care Act and other health insurance rules and regulations. 
Register now: https://register.gotowebinar.com/register/7196241348098297613. 
Download flier (PDF): http://ow.ly/EGIZ50FAQEy.
---
Learn more or request assistance at theCLRC.org.