Free MCLE webinar for legal professionals: Impaired Colleague? Addressing Attorney Competency, the Warning Signs, and Getting Help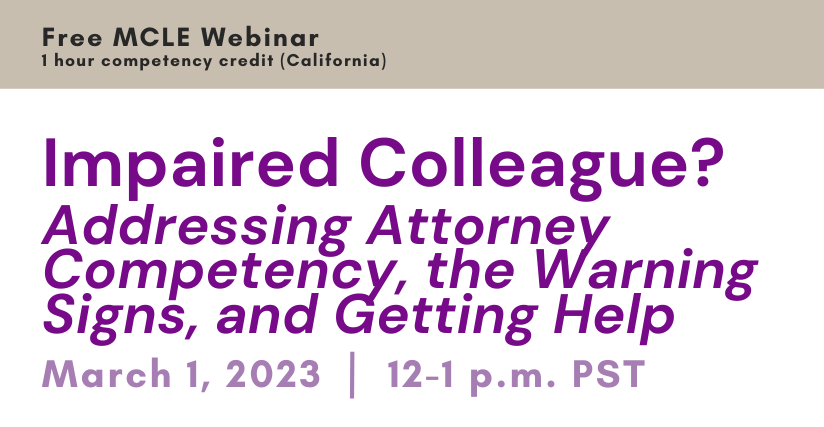 The Cancer Legal Resource Center (CLRC) is proud to partner with Ms. Lita Abella, JD, of the State Bar of California, to provide this complimentary webinar to current and prospective members of the CLRC's Professional Panel.
Register now at no cost: https://calbar.zoom.us/webinar/register/WN_-GQaJqqzQMGVf1fTILGgLg.
This virtual program will offer an overview of the following:
Identifying and detecting substance use and mental health issues among attorneys
An attorney's duties regarding an impaired colleague
How to discuss possible impairment issues with a colleague
Developing a self-care plan and wellness strategies
Knowing where to find help, including the Lawyer Assistance Program (LAP) and other resources

This program has been approved for one (1) MCLE competency credit to attorneys who attend live and are barred in the State of California.
For more information about this resource, download the event flier (PDF).

ABOUT THE CLRC'S PROFESSIONAL PANEL:
MCLE webinars and other resources are available at no cost as a courtesy to current and prospective members of the Cancer Legal Resource Center's (CLRC) Professional Panel. Learn more about this free program at https://thedrlc.org/cancer/about/clrc-professional-panel.
QUESTIONS?
Contact the CLRC at clrc@drlcenter.org.