Ellen Stohl, WILDFLOWER, Elaine Hall, Eagle Mount awarded at 48th Annual FDR Dinner
The Disability Rights Legal Center (DRLC) welcomed nearly 300 guests to the Skirball Cultural Center's Herscher Hall on September 23rd, 2023, for the 48th Annual FDR Dinner. Each year since its founding in 1975, the DRLC has hosted the FDR Dinner, named for the only U.S. President to enter office with a physical disability, to celebrate community members and uphold our vision for an inclusive society.

After live music during cocktail hour by Gaku Murata, DRLC Executive Director Jordan Kough opened the evening's program by welcoming actor, advocate, and FDR emcee Danny Woodburn on stage. Woodburn spoke of the importance of programs like the DRLC's to people with disabilities, caregivers, people diagnosed with cancer, and others who otherwise must navigate complicated legal and medical systems with little or no support.
Highlighting hard-fought victories and co-counsel and pro bono partners, DRLC's new Director of Litigation, Sylvia Torres-Guillén, spoke of the essential nature of the DRLC's work and publicly thanked Jeff Boxer for his work ethic and exemplary contributions to a recent case.
Shelly Rosenfeld, Director of the Cancer Legal Resource Center, introduced the first awardee of the evening, Eagle Mount, and highlighted their commitment to providing quality adaptive recreation and sport opportunities for people with disabilities and young people impacted by cancer. Beth Wilson, Eagle Mount's Adaptive Recreation Assistant Director, spoke about Eagle Mount's impact since its founding over 40 years ago, and accepted the Disability Rights in Sports Award on behalf of the organization.
Elaine Hall, HBO star and founder of The Miracle Project®, personally received the Danny Woodburn Empowerment Award, a distinction created in 2022 at the 47th Annual FDR Dinner to recognize the lasting contributions to the entertainment industry by Danny Woodburn.
Down For Dance, an inclusive dance group offering classes in Southern California and across the nation, performed to "Razzle Dazzle" and "Big Energy."
Elaine Hall introduced the 2023 DREAM Award, which recognizes achievements in Disability Rights in Entertainment, Arts & Media and presented it to the team of Wildflower, a 2022 Hulu film that tells the story of the daughter of people with disabilities. The DREAM Award honored actress Samantha Hyde, who accepted her award with a pre-recorded speech, and Wildflower's entire creative team.

Ellen Stohl received the last award of the evening, a prestigious award named for DRLC's past president, Charles (Chuck) D. Siegal. Joined by DRLC Board President Christine Min, Candace Cable, Director of DRLC's program CORE, gave moving remarks on Stohl's impact as a model challenging society's limited view of people with disabilities. Stohl delivered an acceptance speech on the representation of people with disabilities, the failure of the system, the progress we have made, and the work left to do.
The DRLC extends its gratitude again to the evening's awardees, performers, event staff, volunteers, and contractors, including Darrel De Vera Stoltzfus and the Skirball Private and Corporate Events Team, ASL (American Sign Language) interpreters Karinna Gracia and Anndrea Garza, photographer Steve Sherman, musician Gaku Murata, and sponsors who made the event possible: Amgen, Cozen O'Connor, Davis Wright Tremaine, Jackson Lewis, Kantor & Kantor, Kirkland & Ellis, Latham & Watkins, Hae-Won Min Liao & Wilson Liao, Christine Min & Michael Min, Munger Tolles & Olson, Pillsbury Winthrop Shaw Pittman, Ross & Morrison, and Southern California Edison.
We also wish to thank the following co-counsel and pro bono partners: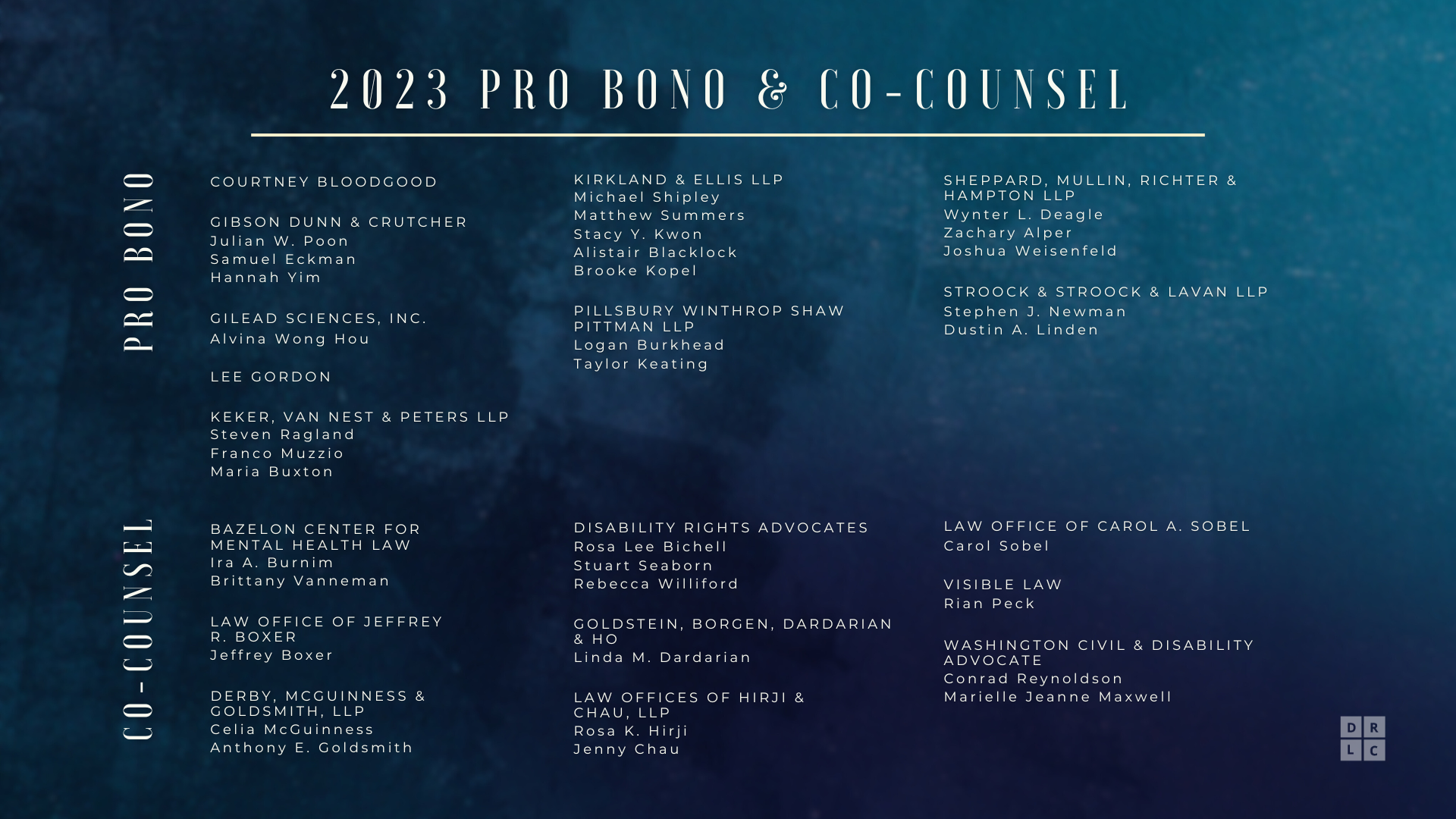 ---